Ads - Easyavvisi
220953 Results
---

---
€10.000.00
Agrigento - 21 nov
---
Monserrato magazzino mq.18, altezza mt.3,5, € 10.000

---
---
Salve, sono alla ricerca di un appartamento con due camere da letto in osimo e zone limitrofe, da subito. sono referenziata, lavoro come psicologa presso una struttur...

---
---
I am looking to rent a 2 bed flat in basildon for me and my daughter age 8 months

---
€147.000.00
Agrigento - 18 nov
---
Villaggio mosè porzione di villa mq.160 con ingresso autonomo spazio esterno di pertinenza e cisterna idrica autonoma, composta da ampio salone, 3 camere da letto, 2 bagni,...

---
---
Hello everyone! my name is traci, i am a mature single woman with no dependents. i am a quiet and clean tenant. i am currently living in burlington and i am seeking shared accommod...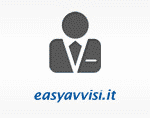 ---
---
Azienda edile cerca muratori imbianchini piastrellisti con partiva iva per ristrutturazioni su roma e provincia, massima serietà.

---
CLF 300.000.0000
Concepción - 16 nov
---
Busco arriendo de departamento o casa 2 dormitorios, de preferencia en hualpén. somos mi pareja, hijo y yo.

---
---
Buongiorno con la presente sono alla ricerca di un bi /tri locale nelle zone in oggetto con massima celerità gli stessi servono per i miei genitori di anni 70&n...